2014 is already jumping off to a raucous start around the world. Between bitter winter weather around the U.S., armed conflicts in South Sudan, the Central African Republic and Syria, and continuing controversy about the Affordable Care Act (Obamacare) it could be easy to begin January with a bout of depression.
But we believe there are still many reasons to be hopeful about the world. We decided to dig through the news and find those places where God is at work for good. Here are some of our favorites:
Elementary School Students Fight Malaria
Lutheran elementary school students in Sioux Falls, South Dakota, care about malaria! Last year they decided to commit to raising $2,400 to help fight malaria in Africa through the Lutheran Malaria Initiative. Through chapel offerings, they raised $1,100 before the end of the school year last May. And this fall they continued the incredible effort, raising $1,346.45 before Christmas break.
Help us thank these students by leaving a note of appreciation in the comments below!
Clowns Without Borders have been touring and performing in typhoon-affected areas of the Philippines, bringing laughter to many children and families there.
We arrived in the village and the kids went crazy when they saw the clowns, who began acting the moment they stepped out of the vehicle, dancing, making jokes and playing with the children.

I was amazed at how Clowns Without Borders inspired both children and adults. Everyone moved to the Christmas tree and left what they were doing to join in, cheering, singing and participating in the performance. It seemed they were able to enjoy themselves for one moment, during a time of suffering while working so hard to recreate the normal course of their lives.
Tunisia's Constitutional Assembly has begun the important step of voting on a constitution that has been over two years in the making.
Of all the countries that went through an Arab Spring upheaval, Tunisia's transition appears to be the most on track to produce a democracy.
Where does Santa go after Christmas?

Maybe to the Hilton Garden Inn in the Northern California town of Redding, where an unidentified person paid the bills of everyone who was a guest Sunday.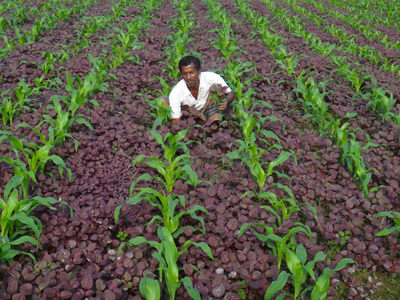 The international aid community often relies on the media to divulge its campaigns and programs — but what about using print, radio and television directly for agricultural development and fighting climate change?

In Bangladesh, local and national media outlets are being encouraged to take part in projects supporting food security, climate-smart technology, green solutions for crops and other agriculture interventions in a new drive led by veteran journalist Shykh Seraj.
What other stories are giving you hope in the new year? Leave a comment below.